Scott Worthington
bassist & composer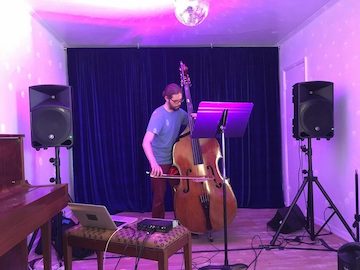 Scott Worthington is a double bassist and composer based in Los Angeles.
news
June 17, 2020

Some bassists have started a fund using Go Fund Me to commission black composers to write pieces for solo double bass. Please join me in supporting this project and performing the music when it's available.

https://www.gofundme.com/f/solo-double-bass-pieces-by-black-composers-fund

May 4, 2020

Originally a project for The Broad, I got permission to upload my complete performance of James Tenney's Beast; a performance live from my house!

You can watch The Broad's project L.A. Mavericks: John Baldessari and James Tenney here.

May 1, 2020

NEW ALBUM: works by john cage

March 23, 2020




Yesterday I performed my first virtual house concert, an idea I hope to continue through the COVID-19 crisis that has halted public performances around the globe. The archive of that stream is below.

Some other ideas include a shorter 12-tone/serial solo bass concert with works by Robert Morris, Erik Carlson, Charles Wuorinen, and perhaps others; improvisations with a new computer system I'm designing; other solo bass music; networked improvisations with others; etc. If you have ideas or pieces you'd like me to consider, please feel free to send them my way!

If I can get a good set up and balance performing with electronics, that will open more of my repertoire to this format. I think it will be possible, I just need some more time to experiment.

Please enjoy Eva-Maria Houben's nachtstück (music starts at about 6:20), stay healthy, and stay home for now :)

December 10, 2019

I'm very happy to have played some bass on Isaac Shankler's record that was an I Care If You Listen Editor's Pick this year. The list has also given me some music to check out while it's still 2019 :)

Check out the album on bandcamp.